Dog Training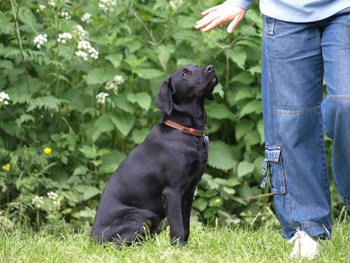 Pet Friendly offers training for both people and dogs. Our goal is to help families and their dogs understand each other better by improving their communication with one another to achieve the best relationships possible. Our training methodology is focused on a combination of reward based methods including praise, toys, food, clickers and life rewards.
Every dog needs need guidance and structure to succeed in the human world, and every dog deserves the chance to learn how to become a courteous canine. Modern training will give you the trust and control that you need to enjoy your relationship with your dog to the fullest. We can provide you with guidance, training and safe socialization outlets for your companion dog.
Class Schedule
Dog Training Classes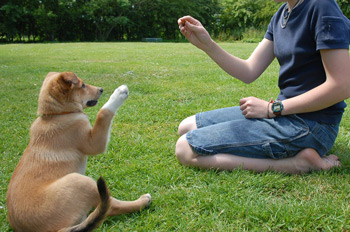 5-Week Puppy Class (2-5 Months Old) $99.99
Wednesday, July 19th 6:15 pm – 7:15 pm (Lindsay)
Wednesday, August 23rd 6:15 pm – 7:15 pm (Lindsay)

6-Week Basic Class (5 Months & Older) $119.99
Wednesday, July 19th 7:30 pm – 8:30 pm (Lindsay)
Wednesday, August 30th 7:30 pm – 8:30 pm (Lindsay)

6-Week Intermediate Class (5 Months & Older) $119.99
Starts Sunday, July 9th 10:30 am – 11:30 am (Kristyn)

Description of classes
• 5-week Puppy Class - $99.99
Nipping
Potty training
Handling and socializing with people and other dogs
Off leash basic skills (Sit/Down/Come)

• 6-week Basic Class - $119.99
Empowers you with an understanding of how dogs learn and how they communicate through body language. Manners, polite greeting with people and other dogs, jumping, potty training, preventative nutrition, problem solving and more.
Topics covered:
Sit
Watch
Touch/Targeting
Down
Stay
Lets Go
Loose leash walking
Come
Self Control, Leave it
Drop it

• 6- week Intermediate Class - $119.99
Building on the basic skills with longer duration and distance as well as real world distractions, and exploring the dog sport Rally-O
Heel
Stand
Finish
Right turns left turns
About turns
Stays at distance
reliable recalls
Sits/downs at distance
Advanced tricks

*Private Lessons - $60.00/hour + tax - Individual one on one lessons tailored for dogs with more specific issues, or for people whose schedules are unavailable to meet weekly.
*Class sizes are kept small for safety and to enhance learning experience limited availability sign up and reserve your spot today!
For more information - Please call 585-366-4242 or email us at contact@petfriendlysite.com
About our Trainer
Kristyn has over 10 years of professional dog training experience. She has been certified and continues her education to this day in order to keep on top of all the new findings in understanding dog behavior and training. Kristyn has also gained extensive hands on experience working with dogs in many environments such as group training sessions, private lessons, dog daycares, grooming salons, boarding facilities, and pet stores.
Professional Certifications:
Pet Smart Accredited Pet Trainer
Certified Professional Dog Trainer
Certified Pet CPR & Pet First Aid



Professional Dog Training Experience:

Pet Friendly: Group Classes, Private lessons, Doggie Daycare
Hilton Continuing Education: Group classes
K9 Training and Boarding: Board to train programs
Pet Smart: Group Classes and Private lessons



Continuing Education:

"Animal behavior Seminar" Cornell – 2015
"Canine Science online seminar" SPARCS – 2015
"Canine Cognition and emotion" Duke University – 2015
"Relationship centered training" Suzanne Clothier – 2011
"Police and working dog seminar" Hennie Bolster – 2011
"Help the Handler, Help the dog" Suzanne Clothier – 2010
"Police and working dog seminar" Hennie Bolster - 2010



Free Training

If you have recently adopted a dog, know someone who has, or are thinking about adoption, then let us help make this exciting experience even better! Purchase your new companion's necessities (Totaling $125 or more) and receive your puppy or dog's TRAINING CLASSES FOR FREE! That is a value of up to $119.99. This is our gift to you for adopting.

Show us your adoption paperwork and sign up within 30 days of your adoption date!